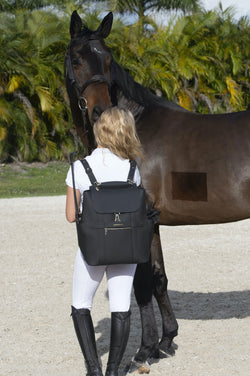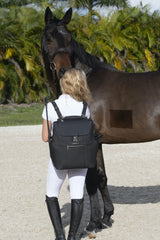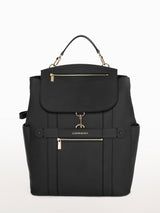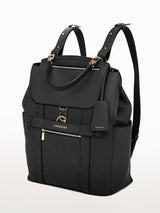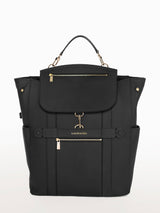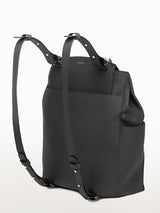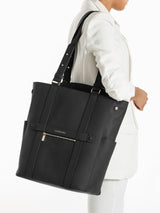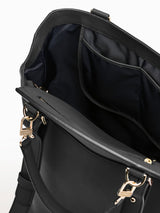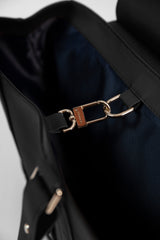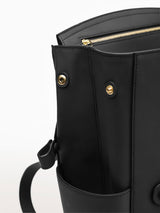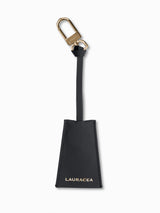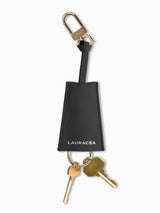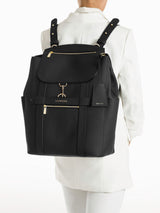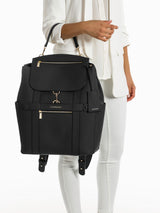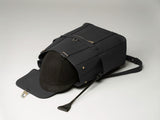 CONVERTIBLE BACKPACK TOTE - BLACK WATERPROOF LEATHER
DESCRIPTION:
LAURACEA'S Convertible Backpack Tote combines beauty and functionality to provide you with two styles in one. When worn as a backpack, the roomy interior is perfect for carrying all of your everyday or riding essentials and is great for handsfree style and function.  The practical front clip ensures everything will be safely tucked away inside, and all of our 24 k gold plated custom tooled hardware is as beautiful as it is functional.  Made in Italy from the finest local materials, including gold plated brass zippers and luxurious leather.  Our signature keyring adds a decorative touch when worn outside the bag, but also allows you to clip your keys safely inside the bag.  LAURACEA bags feature waterproof liners and interior pockets to keep personal items tucked away.  The Convertible Backpack Tote easily converts from a backpack to a tote for a completely different look with even more interior space. Side snap gussets offer yet a third style option.  The neoprene padded laptop sleeve on the back panel is useful when worn as either a backpack or tote.
Details include:
* Detachable top handle
* Detachable key-ring with gold embossed logo
* Logo engraved inside snap-hook for securing backpack closed
* Logo engraved snap hook and D ring on the front panel of bag
* Zip pockets at front and on flap
* Exterior slip pocket for laptop
* Exterior side pockets for a water bottle, riding gloves and other essentials
* Exterior side strap for riding crop or other necessities
* Stain and water resistant lining
* Snap Fasteners at gussets
* Made in Italy
* Waterproof leather
DIMENSIONS:
SIZE: H: 15.5" W: 12" D: 6.5"
TOTE STRAP DROP: MIN: 11" MAX: 15"
HANDLE STRAP DROP: 5.5"
LAURACEA'S waterproof leather is a high performance coated leather. This leather can withstand all types of weather and is a practical choice for barn or city life all year long.